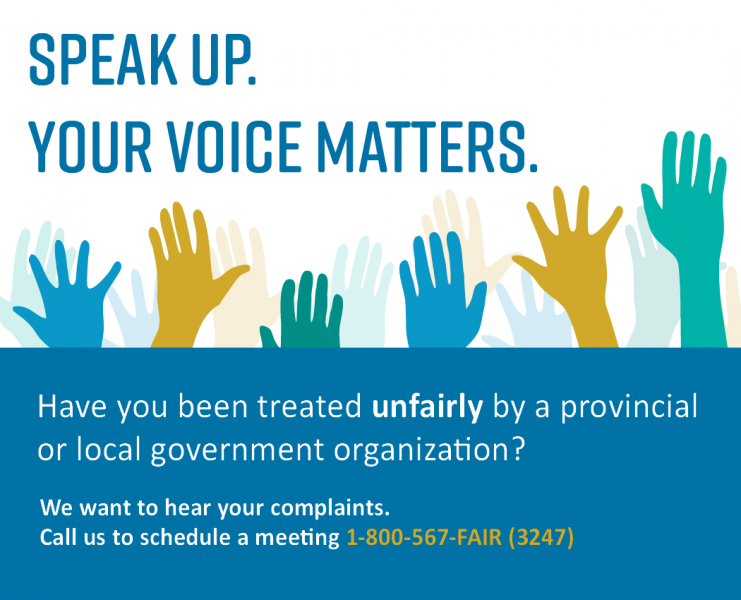 Do you think you have been treated unfairly by the provincial government, your local government, or another public organization in BC? If yes, we may be able to help.
We are currently scheduling in-person appointments to hear your complaints. All appointments are free and confidential.
Burnaby: January 28th
North Vancouver: January 29th
Vancouver: January 30th & 31st
Richmond: February 1st
If you're interested in learning more about our Office and what we do, please join us for a presentation with the BC Ombudsperson, Jay Chalke:
Monday, January 28th at 2:00 pm
— Brentwood Community Resource Centre (2055 Rosser Ave., Burnaby)
Tuesday, January 29th at 10:00 am
— Capilano Mall Community Room (2nd floor – 935 Marine Dr., North Vancouver)
Friday, February 1st at 9:30 am
— Trinity Western University, Richmond Campus (Room 402, 5900 Minoru Blvd., Richmond)
For forty years we have been helping resolve issues of unfairness. We receive over 8,000 complaints and enquiries annually and have jurisdiction over a wide range of organizations in B.C. including provincial and municipal governments, health authorities, schools and universities.
Like us on Facebook [ADD LINK]