2020 • 2021 Annual Report
A Message from the Ombudsperson
For all of us, this past year will be one that challenged us, and tested us like none other. Like organizations around the world, the world we work in changed radically almost overnight. In late March 2020, as the fiscal year covered by this report was just about to begin, the COVID-19 pandemic arrived in British Columbia and our corner of the globe became a dramatically different place.
As set out in this report, it has been a full year and a fairer one thanks to the people who came to our office with the courage to speak up. My gratitude to all of them.


Communities reached through virtual public webinars

Number of Complaints Assigned to Investigation

Enquiries, disclosures and reprisal reports received under the Public Interest Disclosure Act
Top 3 Authorities by Complaint Volume


Ministry of Children and Family Development

Ministry of Public Safety and Solicitor General
Featured early resolution case study summary:
Falling through the cracks
Tristan was injured at work and suffered a severe stroke which left him with significant cognitive and communicative impairments. As a result of this injury, he was granted a 100% permanent functional impairment award from the WorkSafeBC. Tristan's wife managed the ongoing aspects of his claim but when she died, contact with WorkSafeBC ceased for over five years. During this time, WorkSafeBC's efforts to reach out to Tristan consisted of two unanswered phone calls. Several years later, WorkSafeBC successfully re-established contact with Tristan and scheduled a home visit. It was during this home visit that WorkSafeBC learned of his wife's death.
Read More
With these complaints came satisfaction that… we were able to resolve issues and suggest improvements…that made systems of service delivery better for many.
Systemic Investigations and Monitoring
In addition to investigating complaints from individuals, the Ombudsperson has the authority to initiate investigations. In addition to investigating complaints from individuals, the Ombudsperson has the authority to initiate investigations.
Extraordinary Times, Extraordinary Measures: Two ministerial orders made under the Emergency Program Act  in response to the COVID-19 pandemic report was the result of an investigation into two ministerial orders made during the COVID-19 pandemic by BC's Minister of Public Safety and Solicitor General under the Emergency Program Act that we determined were made contrary to law.
The day our report was tabled in the Legislature, the government introduced Bill 19, The COVID-19 Related Measures Act which addressed most of the recommendations in the report. A further recommendation was addressed when  Bill 19 was amended during the legislative process.
Public Interest Disclosure Act
On December 1, 2019 the Ombudsperson's mandate materially changed with the coming into force of BC's new whistleblower protection law, the Public Interest Disclosure Act (the 'Act' or 'PIDA'). The Act provides current and former provincial government employees with a legal framework to bring forward concerns about wrongdoing in their workplace and protects them from reprisal for doing so. The Ombudsperson has the statutory mandate to both provide advice and conduct whistleblowing investigations if employees do not wish to report these concerns internally to their employer. In addition the Ombudsperson has the sole mandate to investigate allegations of reprisal under the Act.
New PID Matters Received Between:
December 1, 2020 and March 31, 2021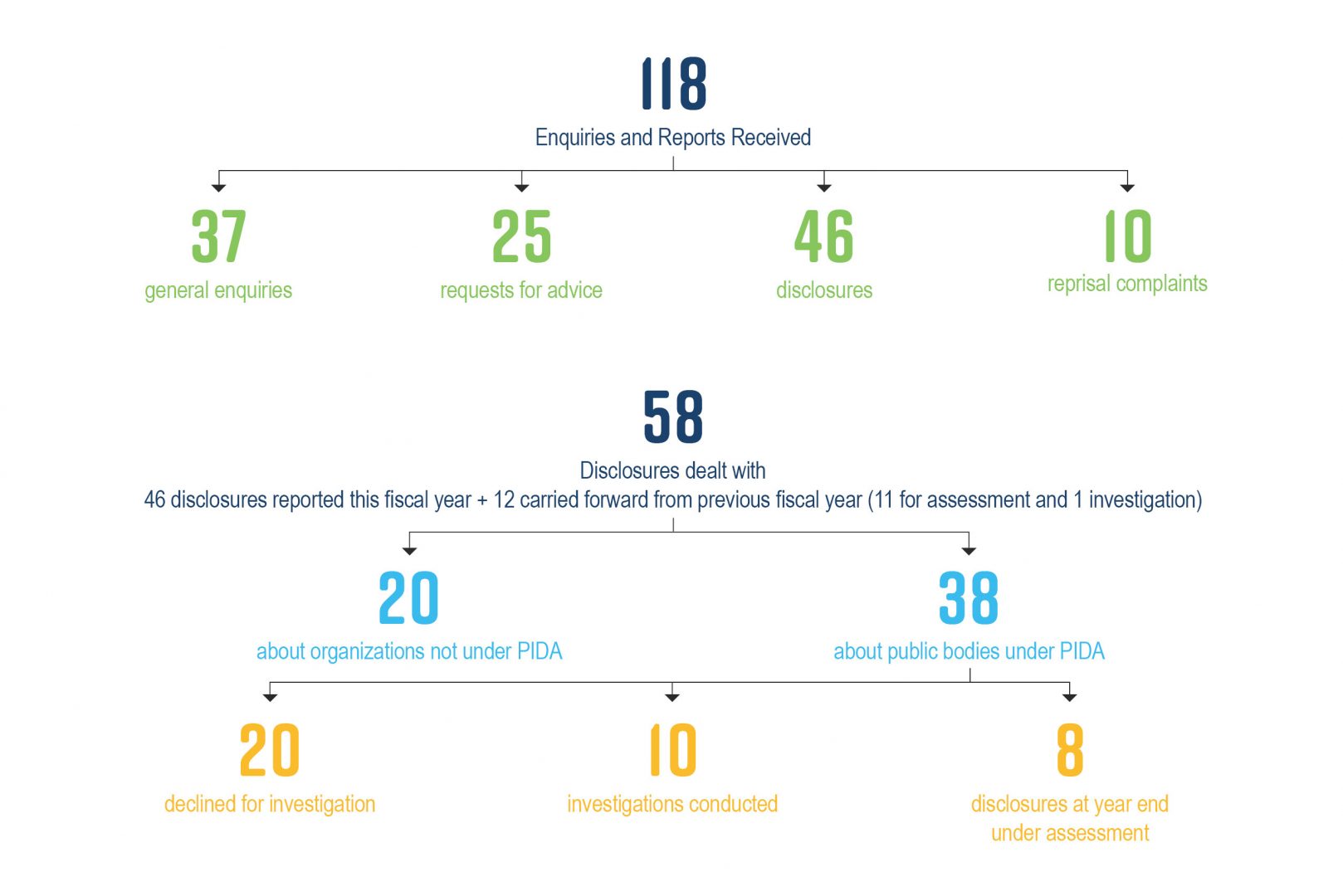 Working as a PID investigator is a unique opportunity to assist public servants that bring forward serious cases. These employees are best positioned within the organization to know if someone has done something wrong, systems aren't working as they should, or a public body is wasting funds. PID provides an avenue and protection for whistleblowers to bring these types of cases forward and the tools necessary to conduct thorough investigations that get to the bottom of things. Through these investigations, we can determine whether government mismanagement and corruption has occurred.

-PIDA Investigator
Public Authority Consultation and Training Team
The Public Authority Consultation and Training (PACT) team, initially a pilot project, was made an ongoing program of the office in 2020 following an extensive independent evaluation of the program. PACT works proactively with BC public organizations, offering education, voluntary consultation and sharing of complaint data to enhance fairness and continuous improvement across the public sector.
PACT Year in Numbers
December 1, 2020 and March 31 2021

Training and webinar participants over the year

Tailored virtual trainings delivered to public sector organizations

Publications: One Best Practice Guide & Four Quick Tips

Requests from public organizations seeking fairness consultations

Registrations for Fairness 101 online course

Registrants for Fairness 101 from Ministry of Children and Family Development (Top enrolment for course from a public organization)
COVID-19 Data Spotlight